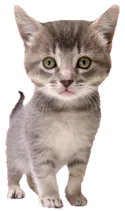 Ottawa Veterinary Hospital has 2 large animal veterinarians and 4 small animal veterinarians. We are now offering appointments as well as walk-ins. The following services and products are currently available.
Products we provide:
Heartguard
Proheart 12
Interceptor Plus
NexGard
Bravecto for Dogs and Cats
Simparica
RevolutionPlus for Cats
Royal Canin canine and feline food
Science Diet
Full Service Pharmacy
Services We Provide:
Annual Wellness Exams
Vaccinations
Heartworm Testing/ Prevention/ Treatment
Animal Boarding(*see boarding policy)
Spay & Neuter
Declaws
Microchips
Radiographs
Ultrasounds
Complete In-House Hematology Lab
Soft tissue and orthopedic surgery
Dentistry
---
After 9PM click here for emergencies!

Because a large number of veterinarians practice at Ottawa Veterinary Hospital, we can care for many types of pets:
Dogs
Cats
Small Farm Animals
Livestock